Dragon Tiger is a fast paced and simple version of Baccarat that originated in Cambodia but has now spread all over the world. Dragon vs Tiger is especially loved by Asian players due to its ease of play.
It has only two cards involved in one game, and this distinguishes Dragon Tiger from Baccarat, more reminiscent of Casino War. All the basic information about the Dragon Tiger game is presented in our article, read on.
Dragon Tiger or more famously known as the two-card Baccarat, started from Cambodia to provide streak bettors with a variety in gambling. And then, it slowly gained popularity around the globe.
The rules of the game resemble Casino Wars, as it uses two cards per play. And as it originated from the brick-and-mortar casino, the gameplay has been modified over the years to adjust it for the online casinos. More, it gained popularity after Evolution Gaming, the star of online game providers developed their own Dragon Tiger online version. Dragon and Tiger signs both display a sign of forces that combine together to form the universe.
Now you can play the Dragon Tiger real money game either on your mobile or on your computer online.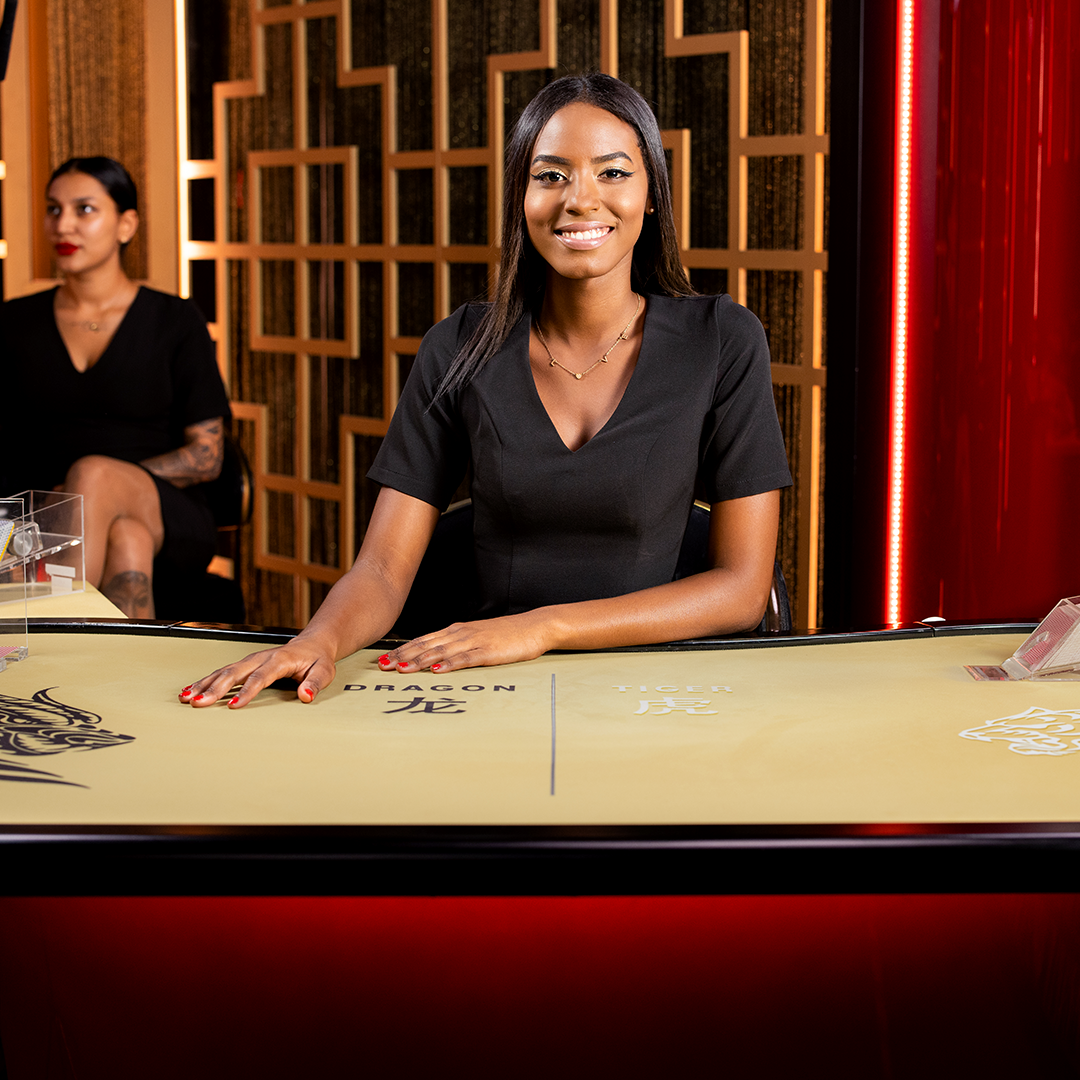 What is Dragon Tiger Game Online?
While not as popular as baccarat or blackjack, Live Dragon Tiger is gaining popularity, especially among Asian players. And its main reason is simplicity, coupled with a fast game mode of only 25 seconds, since only two cards participate in the dragon tiger. You can win more in less time. But be aware that, unlike other online casino games, Dragon Tiger has a higher house edge of around 3.73%. And it is even higher when you bet on the Tie bet.
Anyhow, the Dragon Tiger game online uses a 52-card deck with no wilds or jokers. And you won't be playing against the dealer or other player. Instead, your objective will be to predict between Dragon vs. Tiger. Your dealer will place two cards facing upward in front of you. And the side with the highest rank card will win. The rank depends upon the numerical values of the cards, which means Ace will have the lower value and 10, King, Queen, and Joker will have the higher values. So, regardless of the suit, the higher rank will win.
Rules of Dragon Tiger
Dragon Tiger casino game can be played with 4 to 8 decks of cards and each deck will have 52 cards only, excluding all the wilds and jokers. And each card will have a value equal to its numerical value, which means all the aces will have values below two and cards, such as 10, King, Queen, and Joker will be the highest. Other cards with numerical values, such as 2, 3, 4, 5 and so on will have the same value.
And just like Dragon vs Tiger using the same gameplay system as Baccarat, its table resembles the Baccarat table. However, you will have Dragon and Tiger instead of Player and Dealer bets. And the overall table area has a green background with Dragon and Tiger boxes at the bottom along with the Tie box in the middle. The dragon box will be at the left of the interface, while the tiger box at the right.
According to the Dragon Tiger rules, your main objective will be to predict which side will get the highest-ranking card. And then, your dealer will deal two cards facing upwards, where the highest-ranking is the winner. Cards below 7 are the 'small' cards while above 7, like from 8 to king are the 'big' cards. And your winning chances increase if you get cards above 7. But, getting a 7 card is a loss anyways.
Dragon Tiger game online has different types of bets including:
Lower Dragon/Lower Tiger
Higher Dragon/Higher Tiger
Tie Bet
Suited Tie Bet
Dragon Tiger Game Tricks and Strategies
The most successful way to win at a Dragon Tiger game is to keep it simple and believe in your guts or use our Dragon Tiger game tricks. We recommend either to bet on Dragon or Tiger, as both of these offer a higher payout percentage and their house edge is low as compared to the tie bet. More, these bets allow you to get a variety of bonuses.
While on the other hand, tie bet though get you higher payouts, it is risky and offers a less number of bonuses. Also, its house edge is higher comparatively.
Additionally, you can learn to keep track of the cards and the suits that have been dealt. And as there are fewer cards in Dragon vs Tiger real money game, keeping track will be easy also quite helpful in winning.
Dragon Tiger Payout Table
If you are looking for the Dragon Tiger Rule of payout and RTP, you've come to the right place. We have all information about Dragon Tiger payout, including the total income for each of the possible betting options. The main Dragon Tiger payouts are detailed in the table below. Implement best dragon tiger tips and tricks to win more often.
| Bet Type | Payout | RTP |
| --- | --- | --- |
| Dragon or Tiger | 1:1 | 96.27% |
| Tie | 11:1 | 82.17% |
| Side bets | 1:1 | 92.31% |
The Dragon Tiger game also offers different types of bets. The essence of the game is to bet on whether the place of the dragon or tiger will be large, more than 7, or small, less than 7. If any place is equal to 7, this bet will lose. These are the main betting options, as well as a number of other side bets available in different versions of the game:
| Other Side Bets | Payout |
| --- | --- |
| Big or Small | 1:1 |
| Odd or Even | 1:1 |
| Red or Black | 1:1 |
| 1 Red & 1 Black | 1:1 |
| Suit | 3:1 |
| 2 Red or 2 Black | 3:1 |
Is Dragon Tiger a Game of Luck or Game of Skill?

Just like any other online casino game, Dragon Tiger is a game of true luck. You just have to place your bet and trust on your guts. However, you can use some popular Dragon Tiger tricks and strategies to increase your winning chances.

What is the Best Dragon Tiger Hand?

According to the expert gamblers and professionals at 24betting, both Dragon and the Tiger hand are the best with a payout percentage of 96.27%. However, you must avoid betting on the Tie hand, as it is risky and rarely wins.

What is the Best Way to Win on Dragon Tiger?

As Dragon Tiger is a game of pure luck, you'll never know when the odds are in your favor and you can win the hardest of the bets. However, for sake of being at the safest edge, we suggest betting either on Dragon or Tiger and avoiding the Tie bet.

Is Online Dragon Tiger safe and fair?

Yes, online Dragon Tiger provides you more chances to observe the game comfortably from your cozy spot. And as the dealer will be dealing the cards live in front of you without the usual rush of the casino, you'll be able to focus more on his moves. Also, if you're playing Dragon Tiger live with a licensed casino, it is completely safe and fair.

What is the objective of Dragon Tiger?

The main objective of the Dragon Tiger is to predict which hand will have the highest-ranking card and bet on that. You'll not be playing against any player or any dealer. It's just you and the house.

Should I Play the Tie Bet?

No, you shouldn't play the side bet, especially when you're a beginner or you're playing at a low budget. Even except for both of these cases, you should try avoiding the tie bet. However, you can go for it, if you're looking to experience this side of the game as well. Also, maybe this time the lady luck is by your side and you win the tie bet.

Is There a Winning Strategy for Dragon Tiger?

Yes, there are many winning strategies you can use to win at it. For instance, betting only at Dragon or Tiger and avoiding the Tie bet. Or using the counting cards strategy could help. However, the most important trick is to trust in your guts.

Is Dragon Tiger the same as Baccarat?

Dragon Tiger is a two-card version of Baccarat. But, you cannot call it similar to the Baccarat, as it resembles more to the Casino War than to the Baccarat. Its game system is like Baccarat, but rules and gameplay are more like Casino War. So, you can call it a unique combo of both Baccarat and Dragon Tiger.

How to play the Dragon Tiger game?

Playing Dragon Tiger is extremely simple. First, you will place your bet on either of the three hands and then the dealer will deal two upward-facing cards in front of you. If your prediction turns outright, you'll win.

How to win the Dragon Tiger game?

To win Dragon Tiger, you need to bet either on Dragon or Tiger and avoid betting on the Tie. Also, you can use a suit-based strategy or the card counting strategy to win at it.